Slaget Om Siljan
by
Leksands Gästhem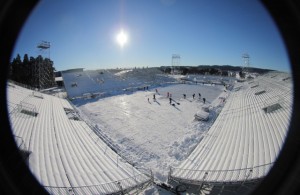 This is our first weekend when we are at full capacity! Exciting, but a little nervy too.
The reason we are full is 'Slaget on Siljan', which seemed to fill all hotels way before christmas. Amazing what a bit of competitive sport can do huh?!
What is 'Slaget om Siljan'? Well, briefly it is an outdoor hockey match between the two old rivals Leksand and Mora. Leksand want to break their previous audience record of 12,479, and it's pretty safe to say they have achieved this. I should point out that this outdoor arena has been built purely for this match only, ALOT of work has gone in to making this happen. And I'm sure a lot of fun will be had by everyone attending.
It is also Leksands winter festival at the moment. Which is also a great reason to visit Leksand this weekend.
I hope everyone that is attending has a great time!
Leksands Gästhem Bed and Breakfast: ekologiskt boende