Floating Away
by
Leksands Gästhem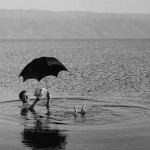 Leksand is lucky enough to have its very own 'Floating' spa, Alternativhälsan, and we at Leksands Gästhem are even luckier as it has now moved from central Leksand, to just a few hundred meters away from us.
I have of course taken the opportunity to try out this floating experience, and I love it all ready. Today was my second session, and I have booked ten of them. I won't go into all the details of what floating is good for, you can read about it here, but basically it can help with stress, muscle aches and pains, sleep problems, and it boosts your immune system amongst other things. You lie back on the salt water (enabling you to float) for 45 minutes, it is a very relaxing experience. I did however experience a pain in my upper back and neck, which was my body apparently seeking out the areas where I need attention (I have always had neck problems, so it would be great if it helps this). The first 3 times you float should ideally be within the same week, and then you float regularly at which ever time interval suits you best. I plan to float every couple of weeks.
Luckily for our guests here at Leksands Gästhem, we have a working partnership with Alternativhälsan and can offer our guests a generous discount.
If you live in Leksand I can highly recommend giving this treatment a try. And if you are a guest planning to come and stay with us, I also recommend giving this a try, just state that you would like to book a session when you book your room with us.
Leksands Gästhem Bed and Breakfast: ekologiskt boende