Places to visit – Styggforsen
by
Ella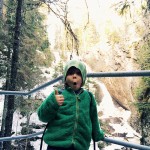 I thought I'd start adding some posts with recommended places to visit. Our little family visits this place at least a couple of times a year, and seeing as we like it so much, I thought maybe our guests would too.
'Styggforsen' translates loosely to 'naughty rapids' and is an enchanting little family outing. It is a dramatic waterfall and ravine located in a woodland area in the village of Boda outside of Rättvik. It is one of  the results of the famous meteor blast in the Siljan region millions of years ago. Read more about it here (in Swedish). In the summer time there is a little cafe which serves refreshments, but we always take some kind of picnic as we usually visit early spring or late autumn.
We were here yesterday on a gloriously sunny winters day, though it was much like Spring, and we sat on the top of 'the goats back' and ate our home made soup. It was one of those lovely outings that you hope to remember for a long time. Our son loves this place – and his outburst of 'Mummy this is the life', made my heart swell. It really is lovely and magical here with small pathways through the forest and a series of steep stairways leading to the top of the waterfall.
Here are some pictures from our outing.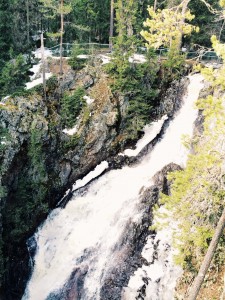 Leksands Gästhem – ekologiskt inspirerat boende i Dalarna.