A quick hello
by
Leksands Gästhem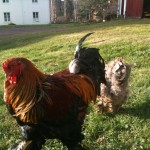 I'm just popping in to say hi!
Once again the blogg is suffering from lack of love! But there is a reason. We are in the midst of moving into one of the apartments at the guesthouse. Which amongst other things, means chaos, and virtually no internet connection! But more organised days are ahead!
This also means that I can add some posts about our home renovation projects. Our goal is to do this as environmentally and eco friendly as possible.
We are currently also trying to find our chicken killer culprit :(. Three so far. First we thought it was a fox. But, we are not sure now. The first time two were killed, but left virtually untouched still in the chicken run. The third chicken was killed yesterday, in daylight, and also left outside, though its abdomen had been eaten. If it had been a fox, we are pretty sure he would have taken them with him, and he wouldn't have attacked in day light either. We are thinking that it may be some ferret type of animal as we have seen them in the past. Any ideas any one?
Anyway, hope life is being good to you all.